Do you reminisce about the days when you used to take the special someone in your life on romantic dates? Weren't those moments magical, filled with love, care, and undying affection? Reminders of those days must make you beam with joy today too. Well, there is a saying "you are never too old for romance". It's true too.
If you have been stuck in the home-office-home routine, now is the best time to break free of this boring schedule and dedicate some time for yourself and your partner and get ready for those toe-curling, butterfly-in-the-stomach-feeling dates again. If you are new to Delhi or just visiting it on a short, impromptu trip, these some of the best places to visit in Delhi for couples are going to give you that much-needed respite and will surely enliven your romantic life.
1. On the Waterfront – The Lodhi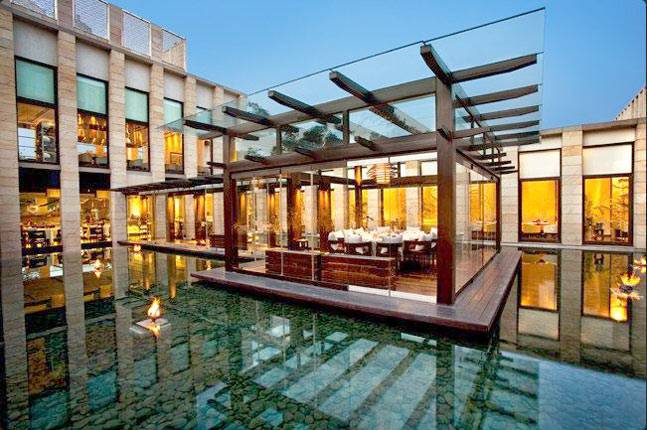 If you are on the lookout for a top-notch Delhi romantic place, your search ends here. Welcome to On the Waterfront – a fantastic & classy ambiance with big tall glass windows on all sides looking over the water bodies/falls.
The eye and soul-soothing scenarios are the most-coveted attraction of this place. There is seating both inside and outside. Such an ideal place for a romantic lunch/dinner, especially the sitting area outside.
The large selection of Asian cuisine, regional food, and pasta/salad, cheese, soups, etc. will encourage you to keep coming back. It is the best place to go with your soul mate and enjoy the classy view and fantastic food.

2. Sevilla-The Claridges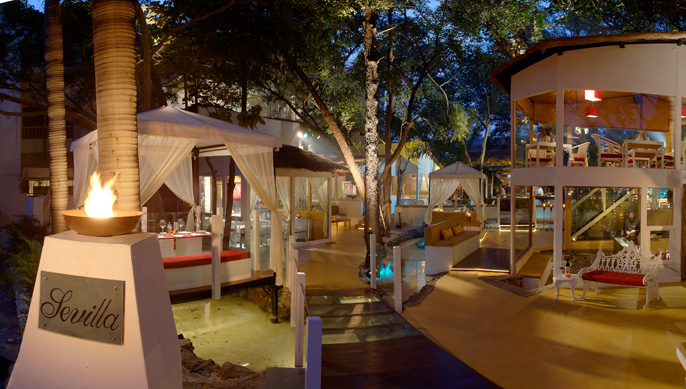 Sevilla-The Claridges is a Spanish-themed restaurant and one of the best places to visit in Delhi for couples. The restaurant is best known for its romantic ambiance and breathtaking view.
Décor is tastefully done with candlelight and beautiful canopy-styled outdoor seating with a row of trees. A truly romantic place, the indoors and outdoors merge to offer you a free-flowing dining experience.
3. Olive Bar &kitchen
A beautiful Haveli which was immediately selected by Condé Nast Traveler as amongst the best new restaurant in the world. It has an indoor air-conditioned section and a charming outdoor section. Décor is all white with pebbles everywhere and a small hint of blue, giving it that distinct Mediterranean vibe.
At first glance, it looks distinctly different and charming at night, as it's lit up with pretty candles and lights. This must be on your bucket list of romantic places to visit in Delhi.
4. Parikrama
"Parikarma" is located in the heart of the capital city Connaught Place. It is India's highest and Delhi's solitary revolving restaurant. In parikrama, visitors can enjoy a 360-degree panoramic view of the city. Parikarma delights its customers with typical North Indian and Chinese food. The service is efficient, attentive and professional. The stunning view, great food, and environment make it more suitable for love birds.
5. Lavaash – by Saby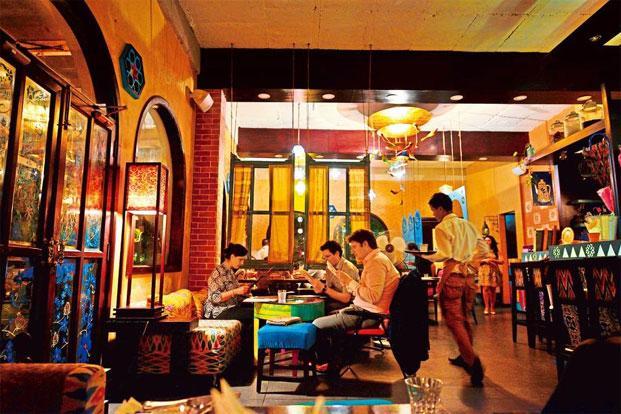 The name Lavaash brings to mind the Mediterranean region, the blue and white hues of this restaurant reinforcing the same. Too many bright colors and patterns can sometimes be an eyesore, but Lavaash manages to maintain the balance.
The indoor seating area is spacious and comfortable, but it is the outdoor area that won us over. The beautiful indoor and outdoor seating area, slow music and innovative cocktails are perfect for a first date. If you have been weighing your options for the much-desired Delhi romantic place, Lavassh is your go-to option! 
6. Varq – The Taj Mahal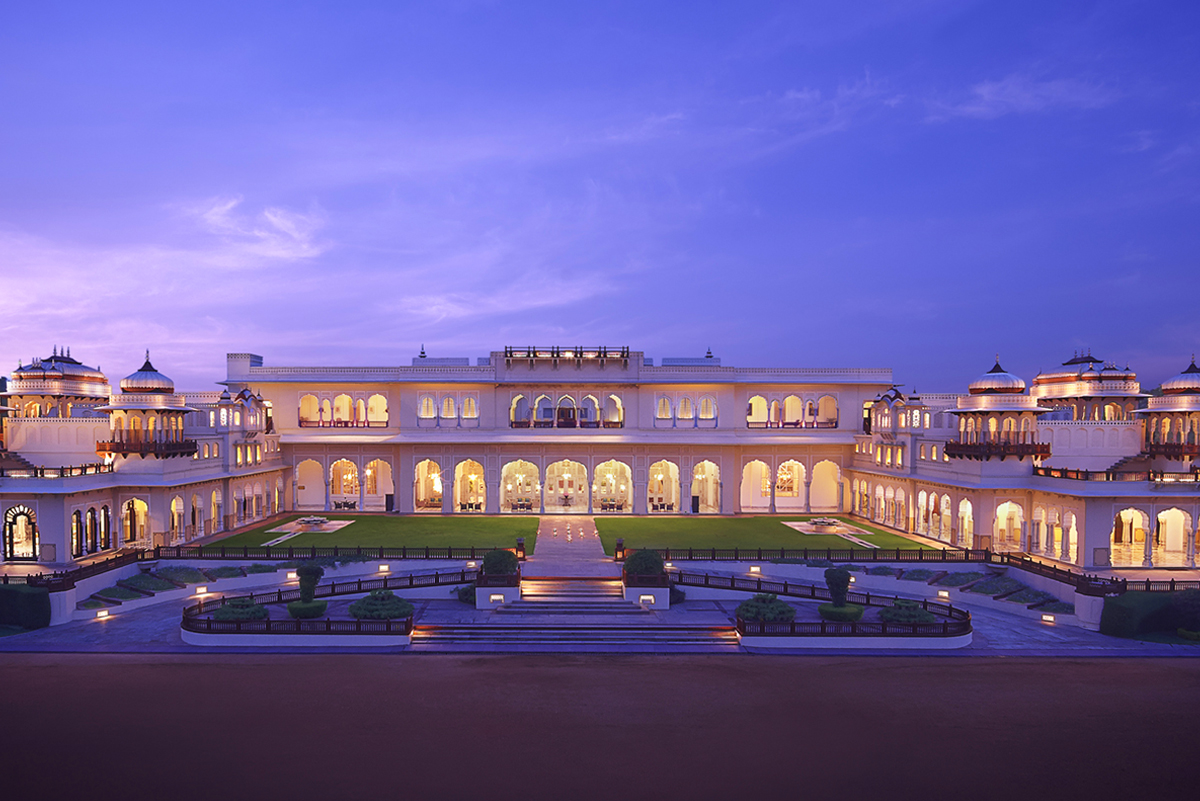 Varq makes its entry into the list of couple visiting places in Delhi and rightfully so! It is nestled in the charming heart of the original Lutyens' Delhi. It is surrounded by various Indian monuments nearby India gate and Connaught place.
One of the most beautiful and romantic places for candle light dinner. At Taj Mahal hotel, you are immersed in the unforgettably profound sensorial experience. The place is legendary with beautiful interiors and out sitting.
7. Indian Accent
It was opened in 2009 with an inventive Indian menu at the Manor, New Delhi. Located in a boutique hotel in one of the posh and pollution free area of Delhi, once you enter into their premises, you just forget where u are! It is a reservation driven restaurant.
The ambiance of this place is laid back with pretty divas all around. Dishes were full of flavor, well-balanced and left your mouth wanting more. If you want a memorable moment with your soul mate this is the right place.
8. Veda
Though Connaught place is a hub of a variety of fine dining restaurants but Veda has got those magnificent vibes the moment you enter the place. Veda is a pan-Indian experience from which people will take back flavors and tastes of the glorious food. The rich – red brick walls, soft romantic lighting and flickering shadows from the low-intensity candle – holders create an earthly feel. It is unarguably one of the best places to visit in Delhi for couples.
9. Thai High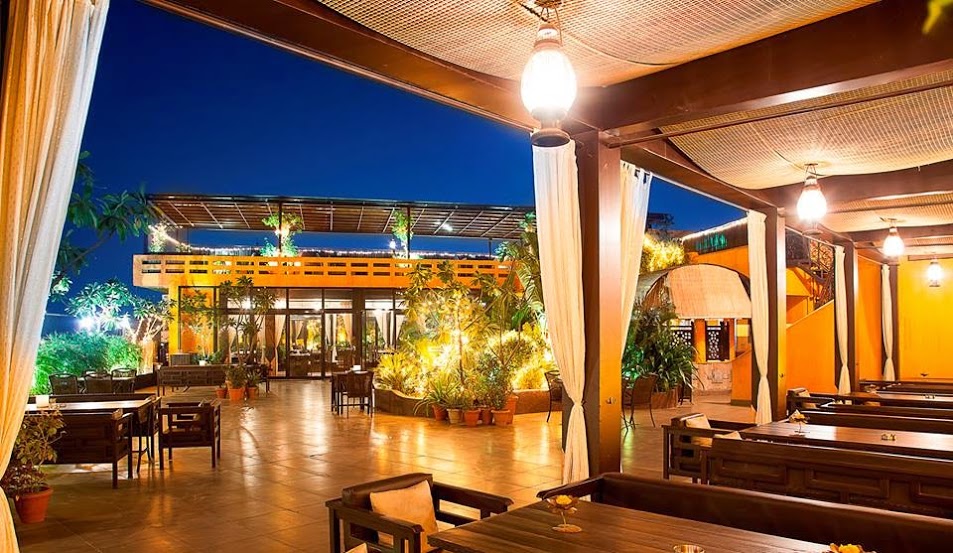 Thai high at the Qutab brings together authentic.  The majestic Qutub Minar and a tomb add to the general ambiance of the place. This is a beautiful rooftop restaurant with a pretty view. The restaurant has fantastic food, a variety of cocktails, excellent service and a beautiful, romantic view to die for.
If you are visiting Delhi for the first time or just moved in, and are looking for some of the great places to visit as a couple, we at TogetherV can assist you every step of the way.
From offering you a list of most-coveted destinations to making reservations to taking care of the decor arrangements, and other nuances of a perfect date, we not only do it all but also strive to surpass all your expectations. So, schedule a consultation with our experts with just a few clicks from the comfort of your couch, sit back, and let us take care of everything.
We are your go-to option in Delhi for planning out candlelight dinners at restaurants as well as in your home environment in an easy, quick, and hassle-free manner. And, yes, the prices are reasonable too. So, you won't have to put off your romantic date plans just because of hefty prices.