Winter season brings along a Christmas festive vibe. Everyone has a lot of excitement to celebrate this festival that denotes the birth of Lord Jesus. Where some people visit a sacred church, some like to have a party and some enjoy doing both. If you are too lazy to step out of your home then organize a Christmas house party. All you need is fantastic decor to create a party-like vibe. A Christmas terrace party seems like an interesting idea. Just cover all the plants with some twinkling fairy lights and decorate the terrace with some Christmas props and banners. Here, we have a few DIY Christmas decor ideas that you can include in the party. These are the best balloon decoration ideas which can be done easily. You can do a simple balloon decoration at home on your terrace or in your lobby and enjoy the day to the fullest with all your dear ones. Even a simple Christmas themed balloon decoration in room is enough to organize a party. But don't forget to ask everyone to dress in red or white.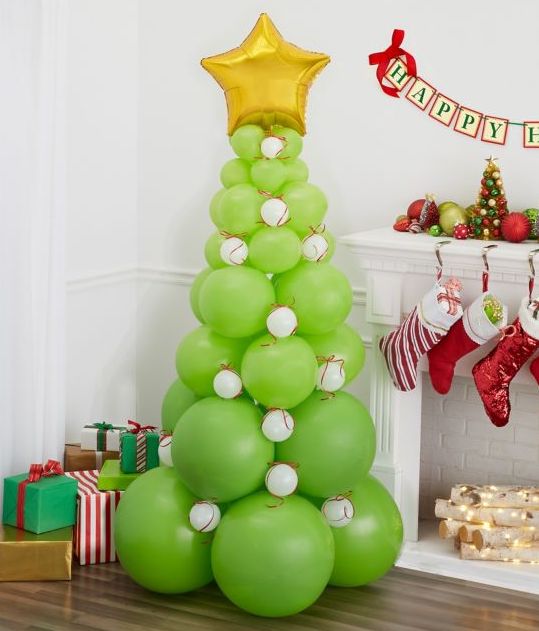 For making a balloon Christmas tree you will need small, medium and large-sized green coloured balloons. You will also require a golden star-shaped foil balloon, ribbons and a balloon pump.
Start with inflating the large-sized green balloons that will make the base of the tree. Tie 4 balloons together from their mouth using a ribbon, they should be flat. Make 2 sets like this.
Now, inflate the medium-sized green balloons. Again make 2 sets of 4 balloons using a ribbon.
Take small-sized green balloons and inflate them. Similarly, make 2 sets of 4 balloons.
In total, you will have 6 sets, 2 of each size. Take 2 sets of large-sized balloons and stack 1 set of balloons on top of the other. Tie both the sets using a ribbon. Make sure you stack in a way that will create the shape of the tree.
Similarly, stack 2 sets of medium-sized balloons in the middle and large-sized balloons on the top.
Lastly, inflate the star-shaped foil balloon and tie it on the top in the centre using a ribbon.
You can even buy mini white coloured balloons and decorate them randomly in between wherever you like. The tree would stand better if you follow all these steps and wrap everything around a pole from the bottom-most layer to the top-most layer.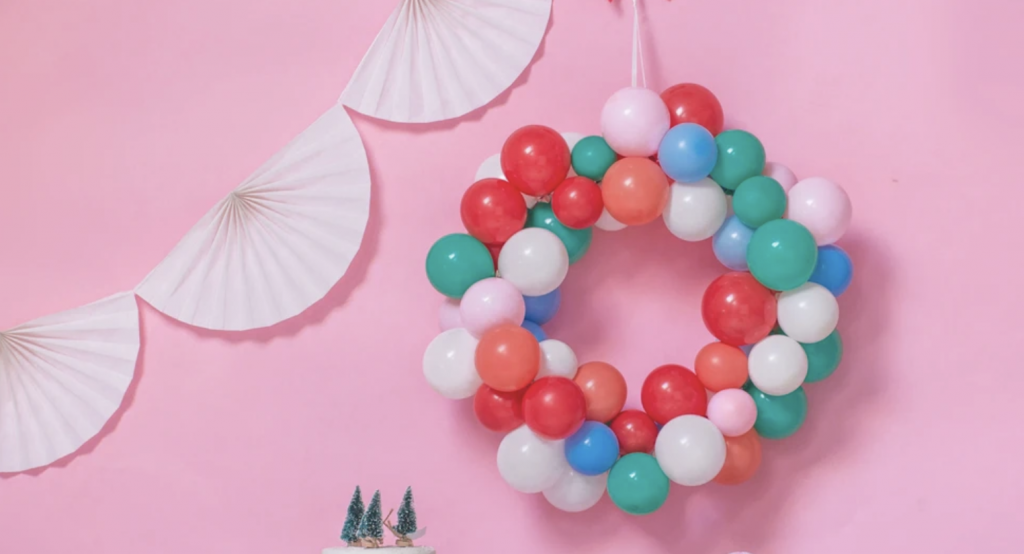 To make a balloon Christmas wreath you will need 50 small-sized 5-inch balloons of mixed colours and an 8 ft. long craft wire and a balloon pump.
Blow all the balloons using a balloon pump. Inflate some completely and some partially so that you get different sizes.
Double the wire to make it more strong. Make a round shape and tie both ends.
Start tying balloons to the wire directly. If required, push some balloons to make space and make sure you tie all the balloons in the wire.
Tie a ribbon from any end of the round to hand the wreath against the wall.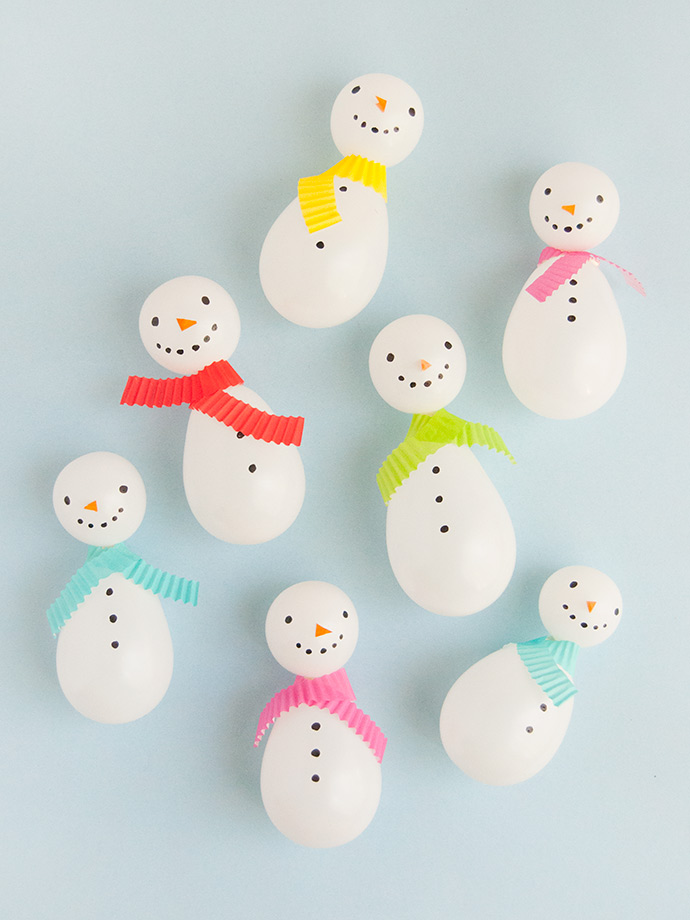 Make a cute balloon snowman using white coloured water balloons, a balloon pump, ribbon, paper frills and a black marker.
Inflate 2 balloons, 1 completely for the body and 1 partially in round shape for the face. Tie both of them using a ribbon.
Take a piece of paper frill and bind it in the neck like a muffler. Stick it using glue.
Using the black marker, make the face and buttons.
Your little snowman is ready. Make many of these and paste them on the walls using double tape. Decorate them in any way you like. You can even paste red or white socks and Christmas hats to complete the theme.
Balloon Christmas Entrance/Backdrop Decor
For this, you will require green tinsels, red bows, a Santa Claus mask, a welcome or merry Christmas banner and a snowflake foil balloon.
Hang green tinsels on both sides of the door or wall. Decorate 1 horizontally over the top.
Decorate the welcome or Merry Christmas banner in whichever way you like. You can even use letter foil balloons for the same.
In the centre, hang the Santa Claus crown along with a snowflake foil balloon.
Tie the red bows using a ribbon on the sides.