Delhi, the national capital has its own magic. You can feel the fresh morning aroma on Lodhi Road or you can taste the mouth-watering food at Chandni Chowk. Everything here has its own beauty. While a large number of good restaurants/cafeterias are located in the more crowded areas of the city, it's always more pleasant to have a more peaceful setup for a romantic date.
No matter if it's your first date or the 50th; it's not a date unless you come up with something new every time! Would not you agree? Can there be anything more romantic experience than a fancy, lavish dinner by your partner's side? Be it in Delhi, Gurgaon, or Noida, you have so many cafes, lounges, and hangout zones as options. And, choosing the ideal place to take your partner out on a date might seem confusing!
Thinking of trying a different environment? Don't forget to check out some of these amazing places to visit in Delhi for couples for a romantic day out. These are the best escapades to leave the hustle-and-bustle of city life behind and indulge in the serenity of romance!
So if you are confused about selecting the best location for romantic surprises with your loved ones, let us help you. Here is a list of 10 romantic restaurants that are the perfect date places in Delhi & NCR.
Sevilla by The Claridges:

A restaurant with beautiful cabanas and delicious food makes a perfect place for a date night. Celebrate your anniversary or Valentine's Day in this exquisite cafe. The hospitality, ambience and food will impress the 2 of you!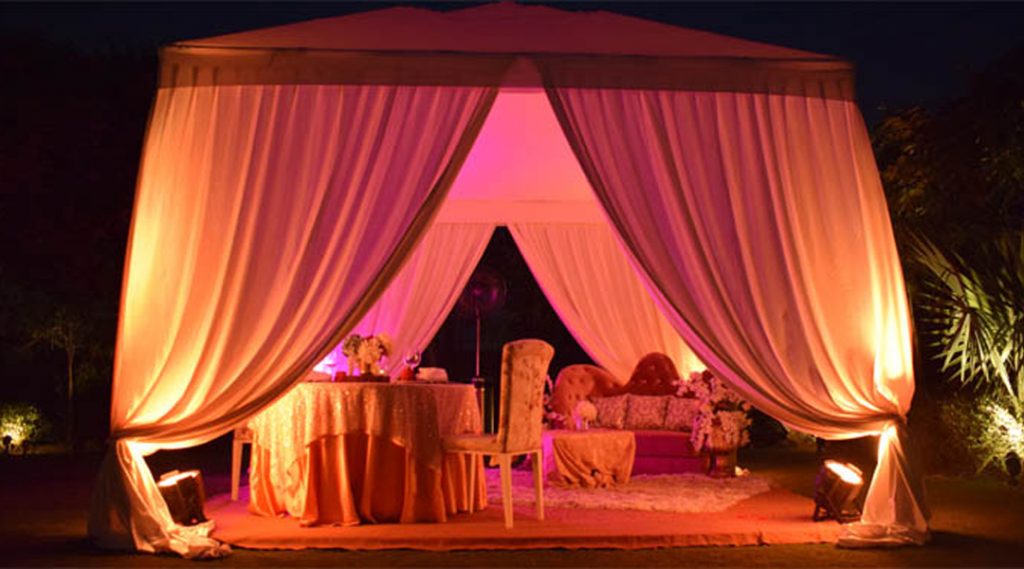 Taj Vivanta organizes romantic candlelight dinners under a beautiful cabana. Book this setup and go with your partner on a date. It has excellent service and an awesome ambience. With such an outstanding ambience you are going to make the day memorable. Amaze your partner by taking him or her to such a beautiful place. It is one of the best places in Delhi for couples to rekindle their romance!
3. Enticing Dinner by Roseatae: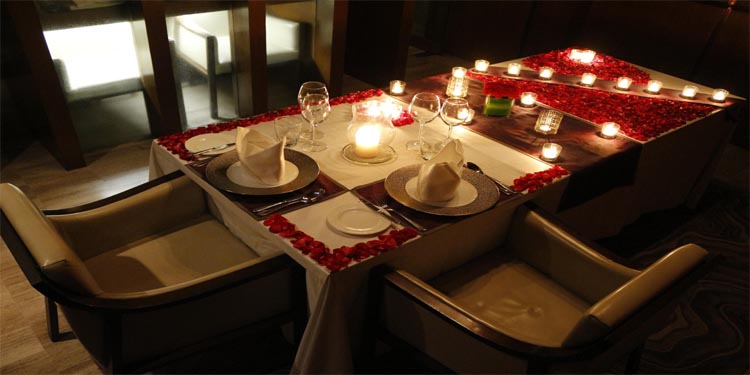 The property is located in the aerocity of Delhi. Book a surprise candlelight dinner for your partner here. You can even opt for a comfortable stay at this property. Make plans on a weekend or celebrate a special date here. It is one of the best locations for romantic dining in Delhi & NCR.
4. The Big Tree Cafe: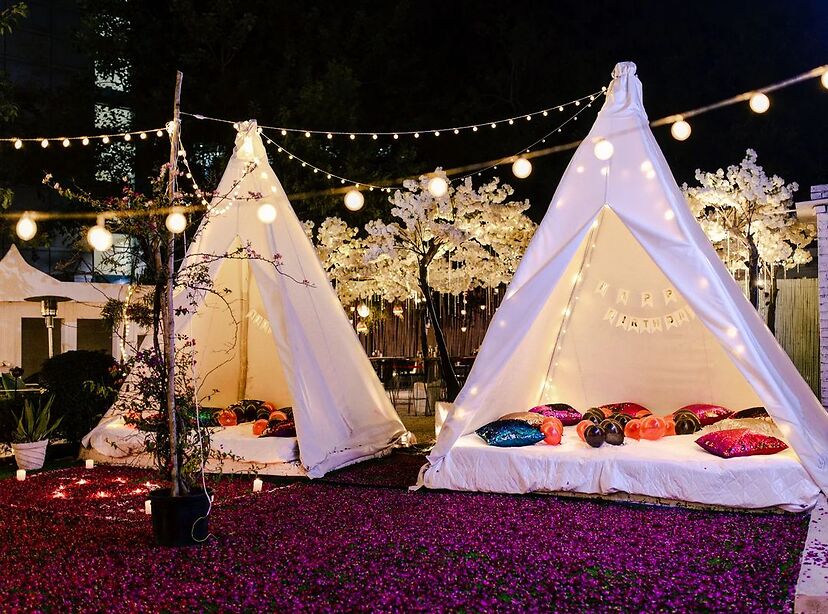 A must-visit place for couples with cabanas in a garden that also has a small lake inside. Plan a romantic candlelight dinner here with your partner. We promise you that the evening is going to be memorable.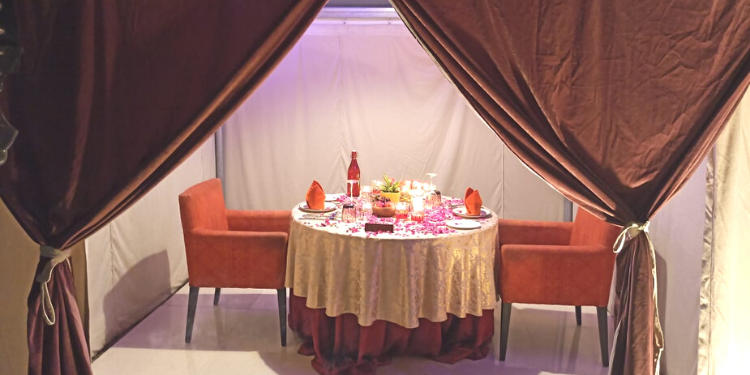 If you want to spend a romantic evening with your beloved, book a private candlelight dinner under a cabana in a garden by Hyatt. You both will love the vibe, hospitality and food. This is one of the most romantic date ideas for celebrating special days like an anniversary or Valentine's Day. Be prepared for a magical evening with your beloved at this enthralling place!
6. Under The Neem:

You will love the pretty setup and the serene vibe of this romantic cafe. Perfect for your first date, spend some quality time together here. The outdoor seating in a garden with gorgeous lighting makes it the best. It's ideal to visit in winter when the weather is nice to enjoy the outdoor seating.
7. Diggin:

A romantic cafe with a fairytale-like setup! The exterior has a lot of green plants and flowers that look very pretty. Along with it, there are wooden benches and white chairs that complement the overall look.
8. Fio Cookhouse & Bar:

The vibe here is all about unique cocktails and tasteful delicacies. You both will love to celebrate a special day here. The cafe has both indoor and outdoor seating, so choose as per your comfort.
9. Chica:

With a spacious garden dining, this is a beautiful cafe in Delhi. Both of you will fall in love with the beauty of this place. Try out some delicious cocktails and appetizers over here.
10. Rooh: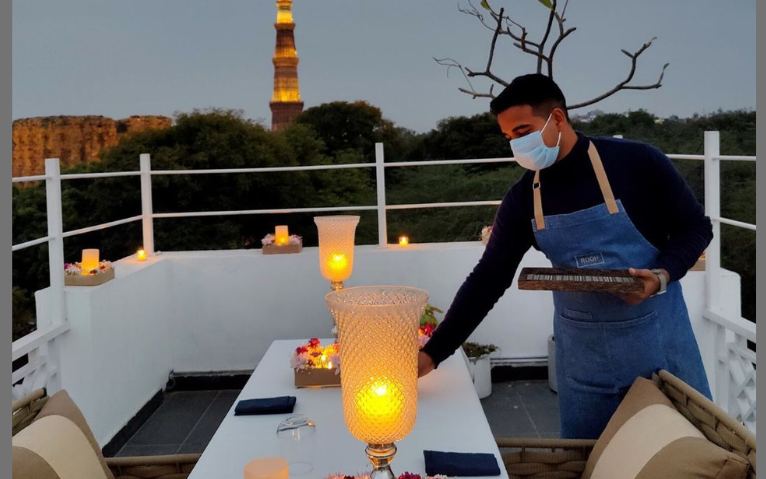 Rooh, a romantic dining restaurant in Mehrauli has modern Indian cuisine. Experiment a little with your tastebuds by going here with your partner. The peaceful ambience that has rooftop dining with a view of the Qutab Minar makes this a perfect place for a date.
As they say, for a perfect romantic date, everything needs to be perfect. No matter how thoughtful you are at setting the vibe, romantic dates are incomplete without unique gifts that your partner will cherish forever. So, do not forget to carry 1. Some other good options for a dinner date in Delhi & NCR are One8 Commune by Virat Kohli, Ivory and Bohca.